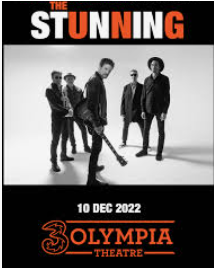 I was reminded of a Christmas 2021 gig that I went to with my friend when I heard the lead singer of the band 'The Stunning' interviewed on the radio today. They were amazing as always, and the evening was especially poignant as it was just before the last Covid lockdown. We have seen them about half a dozen times, and they never fail to impress. Even more than thirty years after forming 'Brewing up a storm' always gets me going. It must be one of the nation's favourite songs.
The lead singer in the main band played beside his brother on base. The guy on the keyboards also played the trumpet and the bongo drums. He blew my mind; I had never seen anyone play the bongo drums so fast and with such amazing skill. We moved after the first song as a pillar was blocking my view of the lead singer.
There were two giant mirrors in front of the circle seats where we were sitting, and I could see myself dancing; for a minute, I thought I actually looked quite cool. As we were up in the gods we had a birds-eye view of a box beneath us to the right. Everyone in it was dancing on their seats and giving it socks. I went to the bathroom, and as I was seated on the throne, I noticed a baby changing fixture in front of me. I smiled to myself whilst reading it as I thought if somebody did want to change their baby, they could just leave it there and come back and maybe get a different one.
All the best
Stay Fab
Adele