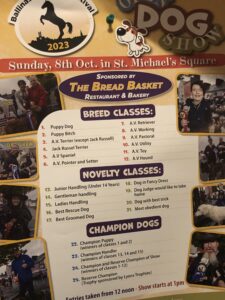 After ten minutes or so, another lady, who I knew to be a Traveller, was entering her dog into the best breed competition. She had a lovely face and was looking at me intently. She then went on to ask me if I was psychic. I said that maybe I was and how, as psychics, we can often recognize one another.
Her dog was not placed, and I could see she was visibly disappointed. At the intermission, she came to me and asked me if I could give her dog a rosette. Myself and my friend were responsible for the presentation of the trophies and rosettes and were quite busy. I did not want my credibility questioned, so I asked the organizer, and she agreed. At the end of the competition, I gave her a blue rosette that said, 'Special dog.' She was thrilled. She then touched my arm and told me I would win a car and buy a lottery ticket as I may have some money coming to me.
I bought a few lottery tickets and a ticket for a car draw before Christmas. I have had no luck with the lottery, but I will let you know if I win anything. Overall, it was a fab day with so many beautiful dogs.
All the best
Stay fab
Adele