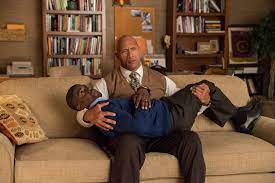 I confess that I have been remiss in my mission to make you smile. My last three posts have been pensive and melancholy, as that is how I felt. Perhaps because I had eaten too much cauliflower rice and melon desserts. Geddit? Melon and Cauli, melancholy……. Dreadful. I know.
I felt I needed to write poetry as I have always found it to be a powerful cathartic tool. My favourite word is catharsis, particularly where my writing is concerned. It is like the literary equivalent of a deep cleansing breath.
I shall dial up the funny over the next three blogs to make up for it. Beginning with this clip where The Rock imitates Kevin Hart and vice versa. I love their friendship and how they crack each other up continuously. They are such an unlikely pair: the Little and Large of our time.
https://www.tiktok.com/@ajayelimones/video/7161863558433672491?is_from_webapp=1&sender_device=pc&web_id=7243787831385359899
The big eye from Kevin Hart and then The Rock trying to act like a small person gives me the giggles. They must have the best bromance in Hollywood, as they are forever posting clips of their silly antics.
And some more The Rock and Kevin Hart. Why? Because I can. This is a great phrase that I was reminded of while watching the National Television Awards. Bobby Brazier, the son of the late Jade Goody, honoured his dad, Jeff Brazier, by saying, 'Why, because I can,' when he won the best newcomer award for his part in Eastenders.
https://vm.tiktok.com/ZGJQFeVHc/
All the best
Stay fab
Adele