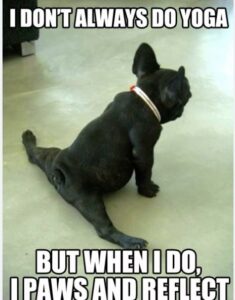 At home, I enjoy practicing Yoga and a little Pilates at the end of a session; I have called it Yogalates. When I mentioned this to someone during the week, they asked if it meant I did my yoga session followed by a latte, and I said,' No', but as it was a good idea, I may well incorporate it into future practice.
I have been doing beginner yoga on and off for twenty years and am not very good at it. When I finish with a few Pilates movements, I can hear my back crack like a bowl of Rice Krispies, and I must admit it is very satisfying. Snap, crackle and pop goes my back whilst my two dogs gaze at me in bemusement from the chair. Last year I attended a ten-week Pilates course which increased my confidence.
Sometimes, to my delight, Buzz will join me in a downward dog, and once or twice, he has decided to rest on the end of my back while I am in the cobra position. It is obvious where the 'downward dog' gets its name from, as my two little fellas love a good stretch following a rest on the sofa following a walk. My day is always better when I have completed a meditation followed by a yoga session.
But for now, I am off to have a Latte.
All the best
Stay fab
Adele