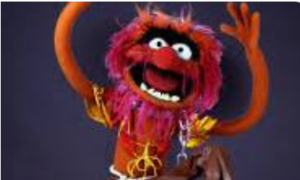 https://vm.tiktok.com/ZGJx47prE/
More Muppets? More Animal? I hear you say.
Well, what can I say? I adore the Muppets. Always have. Always will. And I can relate to Animal as he represents the nutty part of my character. Grover and The Count are my other two favourites.
When I was younger, one of my favourite things was to headbang to the songs Black Betty and Don't Fear The Ripper. And I must admit I was very good at it. I even taught my sister how to do it in Lahinch, County Clare. Such a legacy to be able to pass on………The nightclub where I taught her was above a pub below. I will never forget that the floor was bowed due to the amount of drink spilt on it over the years.
The skill was in leg position and even weight distribution; otherwise, I would have fallen over. I got such a buzz from it.
Nowadays, I get my buzz from my lovely two dogs. One is called Buzz, and the other is Finn.
I met someone yesterday who told me about this video with Elton John on Sesame Street singing Crocodile Rock. At a town meeting, I jokingly remarked how he and his sidekick reminded me of Stanton and Wardour from The Muppets. They always sat together and laughed at the same things. It is hard to believe that this video is 51 years old and Elton is still on tour. What a legend.
https://youtu.be/Dsh30mSPhq4?si=nXoD1MpqlAZkbyFg
All the best
Stay fab
Adele