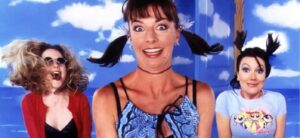 Spooky happenings as I go about my business. Too many coincidences require me running around my home with sage to clear the energy.
http://adeleleahy.ie/heebie-jeebies-part-1-part-1-of-3/
Whilst working in Saudi in the early 90's I recall some great memories. We had the life of Reilly Bin Mayhem.
3.My delusions often take me to imagining myself as a marine Dr.Doolittle befriending seals whilst swimming in Portrane Tower Bay.
http://adeleleahy.ie/hippo-back-flip/
My obsession with Miriam Margolyes continues. Unashamedly.
http://adeleleahy.ie/graham-norton-miriam-escobar/
It is difficult for me to see somebody who is as close to an Adonis as is humanly possible be so funny. Chris Hemsworth you are too funny and too gorgeous.
http://adeleleahy.ie/chris-hemsworth-james-corden/
'Where does all the fat go?' Damned if I know. It was cute to have rolls of fat as a baby but apparently not so much nowadays.
http://adeleleahy.ie/smack-the-pony-where-does-all-the-fat-go/
Whose Line is it Anyway continues to be one of my all-time favorite TV shows. Anything that requires spontaneous improvisation always inspires me. http://adeleleahy.ie/whose-line-is-it-anyway/
This little fella is just cute for words. 'Your welcome'.
http://adeleleahy.ie/westie-on-wheels/
Daniel Craig's final Bond Movie is superb. But then I am guessing that you already know that. Here are my favorite Bond theme songs.
http://adeleleahy.ie/my-best-james-bond-theme-songs/
What if Bond Movies were made in Ireland? What would they be called? Here are a few suggestions for your perusal. Any other suggestions will be greatly received.
Irish Bond Film names
Feck the villains'.
'It's grand. We got this'.
'A ride and a rasher'.
'Cold minger' as opposed to Goldfinger.
And finally
'Deadly Dublin'.
All the best
Stay Fab
Adele