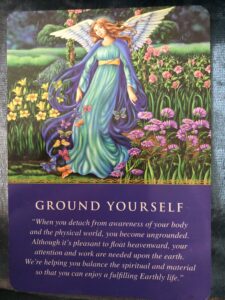 Angel Cards 1 ( 1 of 3)
Today my card was 'Ground yourself'. I am glad to say that I shall be doing this in a little while as I shall be going for a swim. A dear friend told me once
-'How do you know a sea swimmer?'.
– 'They will tell you'.
I am acutely conscious of the fact that we have become quite the boring lot to those that do not swim.  A bit like golfing I suppose.  I have never played it myself nor do I ever wish to. Whenever I meet a golfer, I cannot match their passion and fervor for their sport.
The first time I saw somebody with a Dry Robe was in Howth.   I nearly crashed the car.   Somehow, I knew that they had been swimming in the sea and I was filled full of envy.
As soon as I got home, I had to look up the brand.   My suspicions were confirmed and indeed they were this new brand to help swimmers change and keep warm.
Little did I know that I would be swimming in the sea the following year.   All year round.  I get so much joy from it and also from the social circle that we meet down at Low Rock in Portmarnock.
We are a very hardy and friendly crew. The phrase 'When you're in. it's grand' is the most used.   Referring to the fact that the water is feckin freezing but when you are in all will be well. I like to tell fellow swimmers as I am getting out and they are gingerly getting in
'Don't worry, when you get down and swim around for a few minutes, it's still fecking freezing' which usually gets a giggle.
All the best
Stay Fab
Adele
Cards are from The Doreen Virtue Daily Guidance Oracle cards