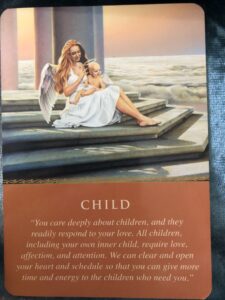 Angel Cards 3 ( 3 of 3)
'Child' is my angel card for today.   It states that I care deeply about children- which I do. I do not have any of my own.   But I have been blessed with wonderful nieces and nephews.  I like to say that I love children but that I can never eat a whole one.
The card further describes that 'All children, including my own inner child, require love, affection and attention'.  The angels can clear and open my heart and schedule so that I can give more time and energy to the children who need me.
My neighbor has a beautiful little grandchild called 'Marlee'. She is only five years old and 18 months ago she would not have said boo to a goose.  She was so incredibly shy.
Lately when I walk past the playground with Buzz and Finn she cries out 'HI, Adele' and comes running over.  The change in her confidence over such a short period of time is a joy to behold.
Sometimes when the playground is empty, I will go in and have a go on the swing. It reminds me of my childhood. We had a swing in our garden when I was younger but I was a terror for going too high on it and jumping off midair.
My Dad removed the swing and I then decided to up my game.   We had a few empty oil barrels in our back garden and I placed one in front of the empty swing frame.  I had been watching the Olympic gymnasts on the TV.
I rolled the barrel up to the swing frame and threw myself at the upper bar from the barrel. I missed and broke my arm. I will never forget the pain. My adventurous spirit remains but it is now tempered with a degree of caution.
All the best
Stay Fab
Adele
Cards are from The Doreen Virtue Daily Guidance Oracle cards