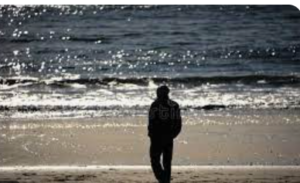 Poem
Meet me at the breakers
Meet me at the breakers and we shall share a salty kiss.
Cresting hands of ocean waves will add to our glorious mood.
Irelands Eye shall wink at us as we exalt in our bliss.
Our dogs playing amidst sand ribs, seaweed and driftwood.
You find an oyster shell that resembles an angel's wing.
You tell me I am the pearl that you were always searching for.
I later find a similar shell as we embrace and then we sing
In the arms of an angel as our hearts soar.
You shall swaddle me in my robe after our daring icy swim.
Our skin tingling, we embrace and do our post-swim wiggle.
Dancing back to the dunes to get shelter from the wind.
The dogs fighting over razor clams will give us a fit of the giggles.
We shall hide amidst the seagrass in the dunes of Malahide.
And debate about the bridge to Donabate.
You shall kiss my hand and ask me to be your bride.
It has only been three months but we know we are soulmates.
The Lego cruise ship on the horizon shall make us plan our honeymoon.
As we dream of our impending travels and adventures.
Our music festival-style wedding will never come too soon.
As we playfully argue over the set list, of our first dance, we are sure.
The giant fire pit and Shalimar will make it a night to remember.
The bodhran, harmonica and fiddle players will play The Fields of Athenry.
Lying entwined beneath our blanket and the burning embers
Counting our blessings and never daring to ask why.
I know that you are out there and that someday we shall meet.
I have faith in the universe and the love that I deserve.
I can see every moment and feel every heartbeat.
A long lifetime of love will be our glorious preserve.
By
Adele Leahy