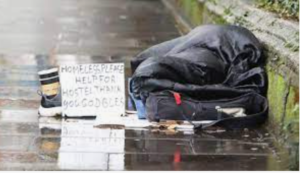 Over fifty homeless people have died so far this year. Two were found this week. Both men in their early 40's. I saw three tents on Malahide beach last week. It is too sad.
Shelter
Seek shelter
Away from the
Helter Skelter
Of my mind
Too often unkind
Meeting strangers
Asking for money
My pride is my badge
It's just for tea
Not for drugs
Do you think I am a mug?
My cup does not runneth over
Am not in possession
Of a four-leaf clover
The luck of the Irish
My arse
My luck is a cardboard box
And food that is scarce
I don't belong
In a world that does not care
That cannot distinguish
My pavement body
On the footpath
Do the math
Two euro to feed me
Don't heed me
Look away
Consider
Am I worth?
Two euro
Or shall I wither?
By
Adele Leahy