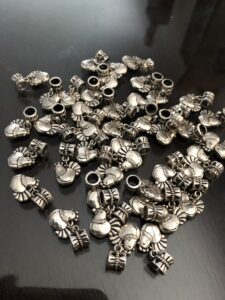 I bought these to make simple bracelets for my sister's hen party.  The purchase could only be made in bulk at the time hence 100 cocks. The photo is merely a sample size.
They arrived too late, which was a shame as I would have liked to have made them. However, it was still an amazing Hen Party.  We went to Marbella, ate, drank and were very merry indeed.
Whenever I tell this story I begin with the fact that I purchased 100 cocks. I am frequently shocked at the reactions that I receive. People automatically assume the worst and I very quickly have to put them straight.
The fact that butter wouldn't melt in my mouth makes it all the more alarming.  Apparently, it is deemed a 'Double Entendre' or something. My innocence knows no bounds as I have never even heard of the term.
Ok. I lie. I have the mind of a sewer and thoroughly enjoy the shock factor of telling this story.  So, shoot me.  I can't help it if I have a filthy mind and enjoy a giggle, chuckle and on occasion a little chortle.   So here I am left with 100 cocks and not knowing what I should do with them.    If you have any urgent need for these please message me and I would be happy to oblige by posting them on.
That's all for now
Stay fab
Adele