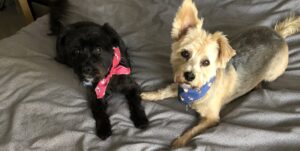 I booked myself into the dog spa today.  It has been a hairy few weeks for me.  Not in the depilatory sense although I did attend to that myself but in the sense that a number of things have happened which I found challenging.
Whenever I get frazzled, I feel that I need to concentrate on doggie mindfulness hence my need to book myself into The Buzz & Finn Doggy Day Spa.  My two therapists today were-of course- Buzz and Finn.  I decided to treat myself to the exclusive package and for this I received the following.
Welcome therapy– I must say that this was probably my favorite therapy of the day as when I returned from being out for less than an hour the welcome, I received were an apoplectic Buzz&Finn  who were over the moon to see me.
Visual mindfulness therapy– this is where Buzz stared at me longingly and lovingly for a few moments to alleviate any stress.
Cuddles & Hug therapy– Both Buzz and Finn delivered incredible hugs which I found very nurturing indeed.
Hand and feet licking therapy– Again both Buzz and Finn were the primary Therapists. The relaxation effect was incredible.
All that was required in return was three walks and regular meals. All stress was alleviated entirely.
All the best
Stay Fab
Adele