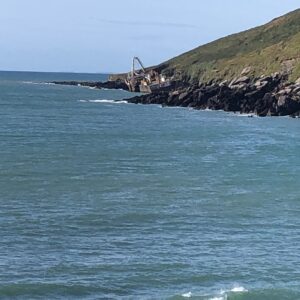 In the end I mustered up the courage and asked him if he smoked- on the off chance that it could have passed over to my room.  He said no.  I mentioned the strong smell and he kindly replied 'That's a first'.  I began to think that my nightmare was linked to the ghost ship.
The ghost ship was 400 meters from where I stayed.  I had vaguely heard of its news the year before but I had no real knowledge of its passage. My imagination was fired up and the writer in me began to imagine that the visions within my nightmare were linked to the ship.
It was named the 'Ghost ship' because it had been at sea for two years and had travelled two thousand kilometers from America to land on the rocks of Ballyandreen by Ballycotton.
The story goes that it was carrying emergency supplies from Greece to Haiti to help following the devastating earthquake of 2010 which claimed the lives of 200,000 people. The ship had been renamed many times which indicates that it may have been used for nefarious purposes.
The engines had failed off the coast of America and the eleven crew were rescued by the coastguard.  Nobody claimed or rescued the ship.   When it landed in Ballycotton thousands of adventure seekers and bounty hunters from around the world arrived to witness the phenomenon. The residents and farmers were apoplectic with the invasion. Their serene and peaceful lives were thrown into turmoil.
I still believe my room may have been Haunted. Buzz and Finn would not eat in the room for the duration of our stay.
All the best
Stay Fab
Adele