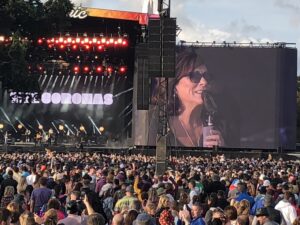 Electric Picnic has two seated areas, in front of the main stage, for vintage picnickers, like myself and my friend. This is where we were headed to watch Dermot Kennedy in all his glory.
Megan Thee Stallion, and what a stallion, was the act before Dermot. If twerking were an Olympic sport, she would take the gold, no problem. She brought up a load of little hotties from the crowd to twerk with her. Much to my delight, every second word was ' Mutha f*cka'; therefore, I used this phrase for the entire evening, much to the annoyance of my friend. Perhaps going to the coffee truck and asking for 'A 'mutha f*ucka Caffe latte' was a step too far, but as they say, I like to live and learn.
On Saturday, Becky Hill ( awesome) and Ann Marie treated us to amazing sets. Following these, we trotted off to Trailer Park and then onto Hazelwood, finally finishing in Fishtown, R.C.A.G was a wonderful surprise. One man with a set of drums and maybe foot pedals that acted as a base? He gave a performance that could rival The Chemical Brothers.
The side acts of burlesque dancers of various shapes and sizes were a joy to behold. Maybe stapling paper hearts to one's boobs, fanny and ass was a step too far? Not at all, as the next lady proceeded to skewer her neck with metal star lights and then light them. Frank and Walters were, as always, their spectacular best. The fact that Radiohead was their support band in the very early 90s is still my favourite rock trivia fact.
All the best
Stay fab
Adele