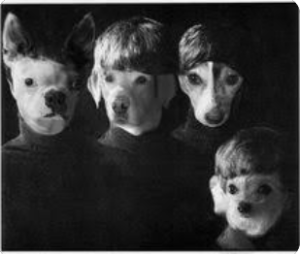 I simply could not resist creating this poem from my favourite Doggy rock blog.
Poem Doggy Rock
If dogs could talk, I so wish they would rock.
I know as a band; they would enthrall and shock.
They could be called Bone Jovi
And boy, how I would Live on their prayer daily.
What about Snow Pawtrol?
I would Run to see them, Rock'n Roll,
Super Furry Animals and their Golden Retriever would light up a crowd.
The Animals at their Carnival playing loud and proud.
Furreigner singing Don't stop retrievers,
Is a song I would truly believe in.
I gotta feeling Ruff Leopard and the Black Eyed Paws,
Would bring out the Animal in me and fill me full of awe.
Bones and Roses and Muttley Crue would never be Estranged.
And in Paradise City, I would dance deranged.
I would have Faith in Limp Dog Bizkit, Earth, Wind and Furr;
As they rock my canine Fantasy making my imagination stir.
The Velvet Undergrowl would give Some kinda love;
Then more Love etc, as the Pet Shop Boys go above
And beyond. The Boomtown Ruffs would make us always like Mondays.
And the Hot House Fowlers with Don't go could be the latest craze.
The Waggerboys would have me wagging my tail.
To The Whole of the moon, I would chorus and wail.
I would never Give it away to the Red Hot Chili Papillons.
And Eight days a week, the Beagles would have me singing every song.
The Irish Rovers would support the magnificent Muttorhead.
And I'll tell me Ma my Heroes have all my dreams made.
Daschund Midnight runners and Geno would be festival stunners.
As Barkade Fire Wake up and give so much wonder.
All the best
Stay fab
Adele