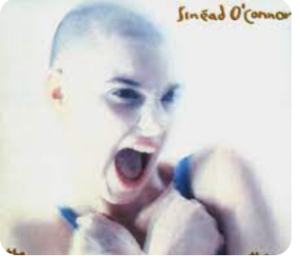 I had to wait a while to post about Sinead's passing, as I miss her terribly. Troy and Just Like You Said It Would Be are the songs I  sing in the shower. I know all the lyrics and am woeful at singing them. My two dogs dive beneath the duvet to avoid having to listen to me.
Troy
https://youtu.be/0c4v7fp5GC8?si=M-yIYUOE_VXfq4ft
Just Like You Said It Would Be
https://youtu.be/_UpJBdXrYjo?si=N7tOpnAM9fiE1vJa
Last weekend, a few friends and I were trying to get into a late bar for a boogie. I started singing,' It's been seven hours and fifteen days since I've been in this feckin queue.' I told the bouncer I would not shut up singing until he let us in. All my efforts failed miserably, and we scuttled off with our tails between our legs. A few youngsters were behind us, and I told them that they had to sing a Sinead 'O Connor song to get in, which made them smile.
To say Sinead was a trailblazer is an understatement. She called out the Catholic Church on Saturday Night Live by ripping up a picture of the Pope and proclaiming, 'Fight the real enemy.' Having watched the documentary about her life, what struck me the most was her unique worldview. She was essentially sent to a hospice occasionally for the women of the Magdalene Laundry as punishment from her school, as it was next door. And she was often in trouble. She stayed up talking to some of them and heard their stories. No one else would have been in possession of the information that she gleaned about the Catholic Church from those poor women.
I know that she is happy in heaven with her son and loved ones.
All the best
Stay fab
Adele