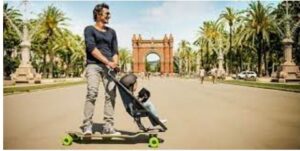 Quinny Longboard stroller
Yesterday I was driving along minding my own business when I noticed a child standing up on the back of a pram whilst the baby was being wheeled along by its mother.   I began to think of a pram with a skateboard attached and smiled wryly to myself as I considered what a ridiculous concept it was. Of course, once I got home, I had to google it and see if there was such a silly thing.
And hey presto. Here you go. Who knew?   It's nice that they have considered the safety of the child and given it a helmet but I cannot help but think that it still perhaps is a bit of a safety issue?   The poor child looks like it is almost crying at one point.   And the video has comments turned off?  I would have given anything to have seen what some people that were not fans thought of it.
'There are even moments when you won't even think about extortionate house prices as the wind is rushing through your hair', he says.
Quite possibly there may even be a moment when your child is mid-air and its nappy gets caught in the branch of a tree.
'It's about feeling emotions again'.
Maybe a bit like the explosive motions your baby is having into its nappy?  In my view it's about as safe as a jelly stepladder.   What will they think of next? Chocolate garlic?   Well apparently, they have.
All the best
Stay fab
Adele