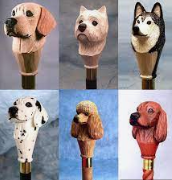 Just to continue on the theme of sticks from yesterday's blog . I found this walking stick story heartwarming.
As I was walking Buzz and Finn earlier today, I passed a man walking with a stick. A little girl was with her Mam walking towards us in the park. They were also walking their dog.  The little girl turned around to her Mam and said 'Oh, look at that man, he is bringing his stick for a walk '. Her Mam smiled, as did I. Such a sweet and innocent comment.
After my walk this morning I visited an elderly lady who is also a brilliantly talented artist.  She shared with me that her father had been a carpenter and that she had some pieces of furniture that he had made. They were two beautiful, very impressive and intricate side tables.
She then began to proudly display her walking sticks to me that her father had made. What was unique and spectacular about them was that each one had a beautifully carved dog's head on the handle.
The lady herself is as fit as a fiddle.  She has a dog that she adores and walks every day. I cannot see her at any time in the future requiring the aid of a walking stick.  However, I am sure that she would perhaps, at times, like to take her father's stick for a walk just to show it off.
That's all for now
Stay fab
Adele