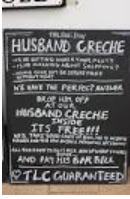 https://vm.tiktok.com/ZGJxgCouP/
I recall from my time working in Dubai that the Fibber McGees pub on Sheikh Zayed Road had a similar sign on a chalk sandwich board as you walked in.  It was- Please leave your husband here in the man creche whilst you shop. You will have the peace of mind of knowing that he is getting quietly sozzled as you spend to your heart's content.
Today, Dubai is marketed as the 'Monaco' of the Middle East. Their tourism marketing has always been off the scale. If you are into high life, awesome hotels, modern architecture and sunshine, then this is the place for you. I left in 2013, having lived there for eight years. I remember going to Fibbers when you could not see your hand in front of you for cigarette smoke.
Fibbers had a fab weekly pub quiz which featured a creative round. It is probably my favourite pub quiz ever. This varied from being given tin foil to design a hat for the Races to plasticine for a new Iconic structure for the country we hailed from. My friends and I created a Rainbow with a leprechaun and a cock of gold. Bringing the tone down was something we excelled in.
All the best
Stay fab
Adele