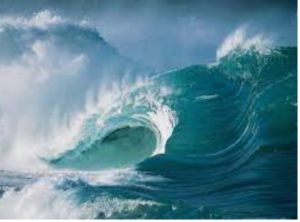 World Ocean Day was last month on June 08th. I had a perfect walk on Malahide Beach with my dogs, Buzz and Finn. We had it all to ourselves as a relentless light rain drizzled down. My trusty Orca Robe kept me warm. I have 'The sea is my frequensea' embroidered onto my right lapel, and as I left the beach, someone remarked that they liked the saying, which was nice as it is my phrase. When I got home, I was inspired to write this poem as the dunes are ravaged further each time I visit, and the coastal erosion is evident.
Malahide Beach
The sea swims within me.
Waves crashing, mind no longer dashing.
It is louder today, the sea.
As the seagulls, in the heavy rain, sing.
I have it to myself, just the sea and me.
Sea weed-strewn shells of oyster, razor and crab claws.
Four cormorants fly by so gracefully.
Then a curious heron enraptures me with awe.
The erosion is evident every time I visit.
The sea angrily chewing the coast in protest.
Chunks of dune on the beach like litter.
As we plunder and pillage an ocean that is no longer blessed.
By Adele Leahy
All the best
Stay fab
Adele