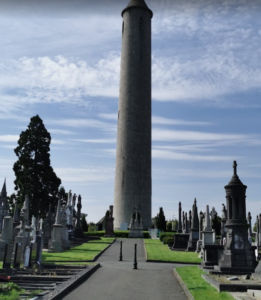 Years ago, I visited Glasnevin Cemetery with a friend but had been too late to book a tour. This time we got it right. What can I say? It was fabulous. If you are into Irish history, it is a must. I loved that they shared some celebrity stories too. Arianna Grande visited and had her photograph taken, which she posted to her Instagram. It got over a million views. And Rod Stewart often visits when he is in Ireland and stands by Grace O Malley's grave and sings the song, 'Grace'.
Daniel O Connell's tomb, Parnell's and Michael Collin's graves had amazing stories. Such as Daniel O Connell's heart is missing from France. It was kept in a box in a tomb and stolen. Michael Collin's widow wore her wedding dress to the funeral of Michael as they were due to marry.
Parnell's grave is known as the Cholera Pit. He wanted no special treatment upon his death and asked to be buried with his people. Many of whom had died of Cholera. As the Tolka River ran beneath the pit, it carried Cholera around Dublin, and many more died of the disease. There is a large boulder engraved with 'Parnell' to signify his resting place and that of his people.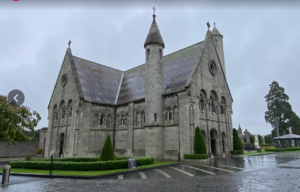 A Scottish teacher took her easter break to attend the 1916 Rising. In her spare time, she was a sniper. During the Rising, she was shot three times. Other insurgents smuggled her out of Ireland back to Scotland for school on Tuesday.
I understand that cemeteries are not for everyone, but I always seem to find them, like churches, to be very peaceful and serene places.
All the best
Stay fab
Adele