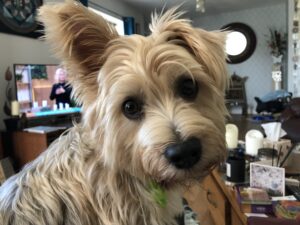 Buzz (my dog) loves barking.   But then again, I suppose most dogs do. He is particularly good at it.   As he likes to get as much practice as possible.
The Maltese Terrier mix (Morkie)  are known for being quite feisty.  He is spoilt rotten and can get very anxious at times.  As he is five years old now, I must say that he barks less now than he did a few years ago.    I like to put this down to my dog training skills.     But to be honest it is more likely that he barks less because he just can't be arsed.
I live in a ground floor apartment and my neighbors above me have voiced their disdain on a few occasions with regards to his barking.   Getting 'Finn' my second Morkie added fuel to the fire as they could not comprehend how I would add to the problem instead of fixing it.    In my defense I wanted a playmate for Buzz and felt that another dog might settle his nerves a bit.   And I was kind of right as he has somewhat settled.
Anyhoo my neighbors went on holiday this week. Buzz and Finn have gotten a few extra barks in – just to let it out of their system. I have too. However maybe howling at the moon last night was taking my new found liberty too far……….
All the best
Stay fab
Adele