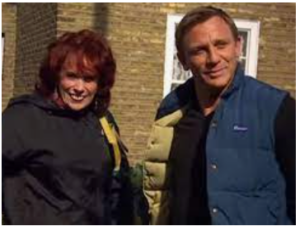 https://youtu.be/g4AgzQvFNZs
How wonderful is Catherine Tate and the beautiful Daniel Craig in this comedy sketch for BBC Comic Relief?  Whilst swimming yesterday a Daniel Craig lookalike was spotted by me and one of my friends getting into the sea.
His blue swimming trunks accentuated his magnificent six pack and the muscular V beneath which apparently are called 'sex line's. Who knew? Certainly not me and I must say that it was quite a pleasurable piece of research.
Our third friend had missed the spectacle and we had her primed for the next sighting.   It was like 'The lesser spotted Daniel Craig lookalike'.    Or a bit like seeing a unicorn.  You heard that they are mythical – as in you have seen Daniel Craig in the movie but can never imagine that anyone could even remotely resemble him in real life'.  As he was getting into the sea I was humming 'Skyfall' beneath my breath and I think that he might have heard me.
When he got out of the sea, he stood in front of us and hesitated for a moment.   I was not sure if he was looking out to sea or if he was talking to his girlfriend.   However, I actually think that he may have heard me humming 'Skyfall' and decided to indulge our lascivious nature. He made our day.   The male human form in all its ripped glory.
Ooooh the thought of him. I think I am getting the vapors. Where's my fan? I feel somewhat light headed.
All the best
Stay fab
Adele