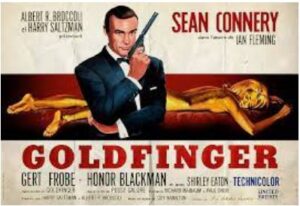 These days it is all about Mr. Bond for me.  Sean Connery in Goldfinger. What a movie. Possibly the best ever.  Looking back over the 24 Bond Movies, Die and Day appear to be very popular words for the movie titles. Let's take a look.
Live and let die
Die another day
No Time to die
Another way to die
The living Daylights.
Here are my top ten James Bond Theme songs. Shirley Bassey, Adele, Chris Cornell and Sam Smith are my favorites as I adore their voices.
As a child I used to sing Goldfinger at the top of my voice whenever I got a chance. I loved performing the hand actions that Shirley added to her performance for greater drama.
Shirley Bassey – "Goldfinger"
Adele – "Skyfall"
Sam Smith – "Writing's on the Wall" from Spectre.
Jack White & Alicia Keyes – "Another Way to Die"
Billie Eilish — "No Time to Die"
Paul McCartney & Wings – "Live and Let Die".
Chris Cornell – "You Know My Name"-Casino Royale
Madonna – "Die Another Day" .
A-ha – "The Living Daylights".
Matt Monro – "From Russia With Love"
I have thought up a few alternative Irish style James Bond movie titles just to mix it up a bit. Let me know what you think?
'Feck the villains'.
'It's grand. We got this'.
'A ride and a rasher'.
'Cold Minger' as opposed to Goldfinger.
And finally
'Deadly Dublin'.
Let me know what you think?
All the best
Stay Fab
Adele