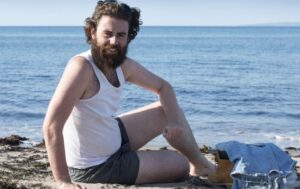 Today a young man was rescued off the coast of Kerry, Ireland having been in the sea for 12 hours.   What was even more remarkable about the rescue was that he was surrounded by a pod of Dolphins.  Twelve in total.   The coastguards would not have been able to spot him from the helicopter had they not seen the circle of dolphins.
            The young man had planned on swimming to an Island 9kms away called  Mucklaghmore Rock. He set off from Castle Gregory beach.  Perhaps it appeared a lot closer than it actually was.
'Frostbit Boy' was another name for the young man as he had risen to fame in 2015 when interviewed by RTE (Irish television) about the weather.   He was eloquent in describing the cold saying 'you wouldn't be long getting frostbit'.  Hence the 'Frostbit Boy' name.   'Ruairi McSorley' is the man's real name.
The other hero (besides the dolphins) was RNLI coxswain Finbarr O'Connell who figured out where the man was likely to be having studied the prevailing tides.
Dolphins are well known for their intelligence but it is unusual for them to actually try and save somebody's life.  They have been known to cure depression, assist autistic children in speaking and some have also been known to detect cancer.
I do a great dolphin impersonation. It is a bit of a party trick as I am obsessed with them. I like to say that 'I can speak Dolphin'. That's a TikTok for another day. Maybe I will start a 'Speak Dolphin Challenge?'.
All the best
Stay Fab
Adele