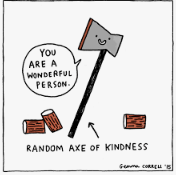 George Clooney gifts his friends a million dollars each
Cookie Monster being kind to John Oliver
(BTW- The cookie monster clip is a gratuitous nod to my sesame street obsession)
George Clooney's kindness and generosity is unfathomable. He gathered 14 of his friends together for a meal at his home. At each of their chairs at his table was an attaché case filled with 1 million dollars. He said that he wanted to return the kindness and generosity that he had received when he was a struggling actor. Which he never forgot. It is stories like this that restore my faith in humanity.
My random act of kindness today was picking up my dog poop. Then I realized that this is a necessity by law.  Another act was choosing not to park my car on a double yellow line in front of someone's house. And again, I realized that this was just me abiding by the law.
In the end I told a few people in cars that if they remained parked where they were there was a strong likelihood that they may receive a parking ticket. Myself and my friends all received one 2 weeks ago in the same parking spots following our swim. Boom, random act of kindness done for the day.  In no way will it rival George's kindness but it will do for now.
That's all for now
Stay fab
Adele