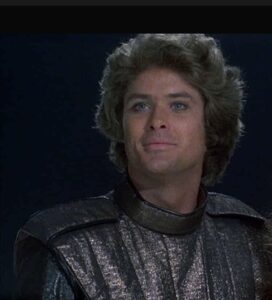 David Hasselhoff, what a guy?    I adored 'Knight Rider' as a kid. I truly believed that it was the coolest show.  Imagine a car that can talk to you and obey your commands?    Nowadays it is not such a remote idea.
My car speaks Japanese to me. It is a Japanese import and the toll card reader announces something when I turn on the engine. Not quite the same thing as in it does not obey my commands. But it will do for now. I need to learn the language to understand what she is saying.  Perhaps she is providing directions to the nearest Sushi restaurant? Although I doubt it.
David was also a huge popstar in Germany before he was globally famous. Apparently, he has quite a voice.  I suppose with a name like 'Hasselhoff' they were welcoming their own. I wonder if people give him grief over his name?    Asking if their request for an autograph is a Hassle? And asking that he doesn't stride off in a Huff/Hoff?
I am sure that he has heard all the woeful puns a million times. Since his 'Knight Rider' and Popstar days he has gone onto global stardom in 'Baywatch' and as a judge on 'Britain's Got Talent'. I have decided not to add any links to YouTube for his music as it is not my kinda thing and is truly woeful. Long may he be the star that he is.
That's all for now
Stay fab
Adele