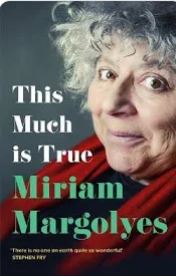 Graham Norton Miriam Escobar
Here is a new clip that I have found of Miriam Margolyes . I have already completed a trio of blogs on this wonderful lady but could not resist sharing this.
A very dear friend gave me the gift of a book written by Miriam Margolyes called 'This much is true'.  The weird thing is that I had been watching some clips of Miriam on YouTube.
It was a lovely coincidence as I needed cheering up following a shitty day.  Miriam always manages to dispel any gloom that I might have as her candor and wit never cease to crack me up.
Lately I seem to manifesting a lot of things.  Therefore, I have decided to imagine Jason Mamoa in my living room playing with Buzz and Finn before offering to give me a massage.
This will relax me before I make my debut appearance at The Abbey Theatre playing the main role in a play that will win me a Tony award when it runs in the West End.  I will have written said play and will go on to win several scriptwriting awards.
Jason will be there at the end of my debut throwing me flowers before running up on stage to gather me into his arms for a romantic kiss.  My first novel- Tara Tree- will become an international best seller and my world book tour will be an absolute sensation.
Here is to my wonderful manifesting interlinked with a few delusions. But hey, it makes me smile.
Wish me luck.
All the best
Stay Fab
Adele