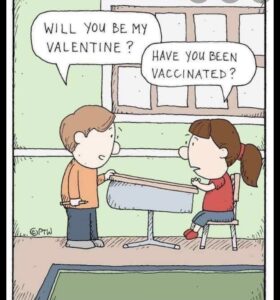 Let's scream and shout the vaccine is about.   For those that wish to receive it.  At long last. Although it is probably best not to get hopes up and to manage expectations. I am still unsure as to whether I want to receive it so soon, or at all.   But that is just my own personal view. The roll out is no doubt going to take a little bit longer than anticipated.
For those in dire need, the elderly and the immunocompromised it is a Godsend.  For those of us that had Covid, me included, back in May, I realize that I am just as susceptible as anyone else. That I no longer have the antibodies and of course many unfortunate people have suffered Covid twice.
I have heard that if ALDI were administering the vaccine that we would all have it in no time.  Similarly, if the pubs were to open that this would be another sure-fire way of ensuring that a large majority of the population would also receive it.
With regards the wearing of masks I can see that this might be around for a long time yet.  One of the good side effects of Covid is that the rate of the normal flu has diminished greatly due to the world receiving a masterclass in infection control over the last year.
Sometimes though I notice that the mask wearing can go a little too far. After all, if you are on your own in a car, wearing a mask, shouldn't the only reason for this be that you are about to rob a bank?
That's all for now
Stay fab
Adele