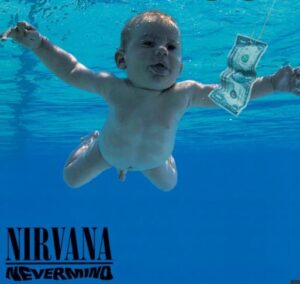 Of all of the possible lawsuits that could ever be contrived this one really takes the biscuit or dollar bill.  The man who was the young baby on the cover of Nirvana's 'Nevermind' album is suing the band for sexual exploitation.
The baby is famously pictured in the water reaching for a dollar bill and apparently it took 5 minutes to shoot. The photographer explains that the dollar bill on the fish hook was added in afterwards.
What is so incredulous about the lawsuit is that the grown-up baby 'Spencer Elden' has recreated the famous album cover on many occasions throughout his life including for its 25th anniversary.   He was four months old when it was shot and the album went on to sell 30 million copies.
The lawsuit stated that Mr. Elden's parents did not sign a release authorizing the use of any of the images. WPA Alert (Woeful pun alert) There was 'Something in the way' that the cover was shot that made it so memorable.
In preparation for the photoshoot the parents with their baby were told ' Come as you are'. The guy is obviously seeking financial nirvana but it does smell like a dodgy lawsuit to me. He may well be expecting 'All apologies' from the record company but it is possible that he will be a long time waiting as he is suing the remaining band members also.
All the best
Stay Fab
Adele