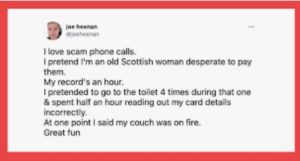 I think that everyone has fallen victim to a scam call.   They seem to be rather prevalent nowadays.   A few months ago, a friend of mine mentioned that she had received a call telling her that she was to be convicted of fraud and money laundering.   I found it hard to believe until I received the same call last week.
The voice at the end of the call was an automated American voice and I hung up immediately.   I really wish I had told them that I knew what they were talking about as I had left a tenner in the pocket of my jeans and had put it in the washing machine ( money laundering…geddit?) But, alas I did not.
I wonder how they recruit their callers?   Is there a special 'School of Scamming' that people can sign up to?   Are they wannabe double agents who see being a scam caller as an apprenticeship?
Is there an application form asking if they have a skill for duping people?  Do they need to have fallen victim to a scam themselves in order to be able to display the relevant skills? Here is a refreshing video where a professional scams the scammers.
Scammer payback
I have decided to play along the next time I receive one and let you know how I get on.   Lately I have heard some rather entertaining stories of others that have done so and who have found it to be an immensely entertaining past time.
I shall share them with you over the next few days. And here for your perusal and enjoyment is a link to the all-time greatest scammer of the scammers 'Mr.Joe Lycett'.
All the best
Stay Fab
Adele