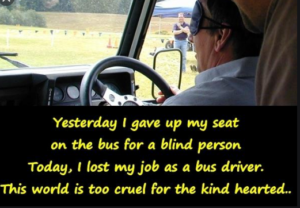 I love this joke that I am about to share with you and was telling it the other day to a friend. One of my favorite bits is when, prior to commencing the joke, I ask them to clear their mind. Then I immediately add' Oh, you are way ahead of me'.
It's a humor test and normally takes a second for the person to figure that I am calling them empty headed. By which point I can see the light bulb going off in their head and then I am hopefully waiting for a laugh. It doesn't always happen but thankfully it did the other day.
So, here goes.
The 42 bus is driven by Pat who loves to listen to RTE 2FM.In particular Tara Stewart who plays his favorite Irish band 'Fontaines DC'. When he starts off at the main stop 15 passengers get on. At the next stop four passengers get off and one passenger gets on. The next stop six passengers get on and eight passengers get off. The next stop two passengers get on and three passengers get off. At the next stop three passengers get on and two passengers get off. At the last stop five passengers get on and four get off.
I then say to the person/few people 'Okay have you got that? Grand what was the name of the bus driver?
The hardest part is trying to keep a straight face as you watch everyone diligently doing their sums as to how many are left.
That's all for now
Stay fab
Adele