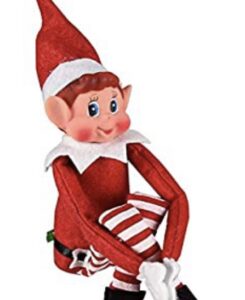 Continuing on from 'The Elf's' latest adventure featured in yesterday's blog
http://adeleleahy.ie/elf-on-the-shelf/
As you can see from the photo The Elf is now officially off the shelf and may I say looking all the better for it.
I realized this morning that I would need to possibly elucidate how The Elf became betrothed.  It would also be prudent to share that I have been asked to be The Elf's agent which I am rather pleased about. Considering the upcoming  furore due to the impending Panorama interview and the onslaught of the paparazzi my appointment is timely.
The Elf has announced that it met its partner through 'Wagger', a new dating app for animals, originally for dogs. This is one of many apps for dating for animals but what sets this apart is its exclusive membership for exotic animals and festive stars such as reindeer, unicorns and elves.  The other unique feature is that both the animal and the human can both find playdates/ romantic dates.  The Elf has been asked to be the spokesperson for this app however it is as yet to identify who it has married.  Paddy Power is taking bets for the following
Rudolph – Odds 8/1
The Grinch – The Elf has recently been discharged from rehab for its addiction to its wild and self-sabotaging lifestyle. Some say that they may have met in rehab. My sources have yet to clarify. Odds 15/1
The gingerbread man- Odds 20/1
Tomorrow I will share Buzz's 'Wagger' bio (as he is desperate for a lady dog friend) and any further news on the Elf's lifetime partner.
Have a great day.
Stay fab.
Adele