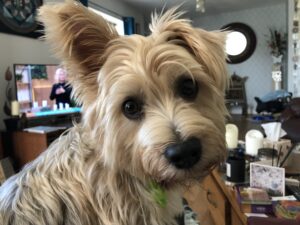 Over the last few days, I revealed that 'The Elf' got married, and is no longer on the shelf. We are unsure as to whom the life partner is but we do know that it used the new App 'Wagger' to find love.
This App was initially designed for dogs but went on to develop an exclusive membership option to include festive characters and mythical animals. As I have been appointed the agent for 'The Elf' I am awaiting the announcement to reveal The Elf's new partner. Please refer to my previous two blogs re betting odds
http://adeleleahy.ie/elf-on-the-shelf/
http://adeleleahy.ie/the-elf-contd/
In the meantime, Buzz has created his Bio for the Wagger app.  He has a brother called Finn who will be uploading his tomorrow.
---
Buzz
Hi, I am Buzz, a four-year-old Morkie.  My human is Adele.  My hobbies are barking, wagging my tail, playing with my chicken chew toy that squeaks and drives me wild, and playing with my brother 'Finn' who is crrrrazy, a bit like Adele. Oh, and sniffing, how could I forget that? Without a doubt my all-time favorite hobby.
I like to think that I am almost forensic at sniffing. And I also like to think that I have healing qualities. When Finn hurt his eye, I licked it regularly for 2 days and it got better. I adore Adele and Finn so much. I also work full time, well, more than full time. 24/7 to be honest as a security guard for Adele, at home, in the car and whilst out walking. I can get very anxious as I don't like being away from her or my brother.
I am looking for someone who likes to play and sniff.  Someone who is maybe the same age as me, as Finn is too fast at times when we play. Sometimes he whizzes by so fast I can barely see him. Sniffing is important and I don't mind poo sniffing.  I am partial to it myself. But I draw the line at eating it. Finn does that and it grosses me out.
Adele still gives him lots of cuddles even though he eats poo but he is definitely more affectionate than me. Always has been. I have had to seriously up my game with the hugs and cuddles to make sure that I remain top dog.    Even though Adele and Finn are my best friends I still feel that I need a girlfriend to spice things up a bit. I hope that you are out there.
Pawsibly your new boyfriend
Buzz