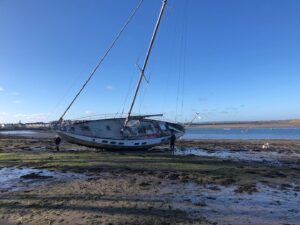 I was on my way to Bull Island in Clontarf. An invitation for a talk on Bull Island by a representative from An Taisce (The National Trust for Ireland) had been sent to me by a friend. We were to meet at the Interpretative center where we would be enlightened with the Island's history and its many birds.
When I got there my friend had befriended another attendee whilst she was waiting for me. This girl was dressed for a festival. Multi colored beanie with sown on dread locks and a denim jacket emblazoned with a giant butterfly on the back. My kinda style. I immediately warmed to her.  She had previously worked for An Taisce and regaled us with the story of the Blue Flag beach scams of the 90's.
She told us of how people from various councils around the country pretended that their beach was blue flag. They would change the year that the flag was initially granted by coloring in the numbers. This made me smile. It would only happen in Ireland. Although upon further consideration I realized just how dangerous it can be.
On my way back along the coast I stopped as I noticed a man painting the yacht. Curiosity got the better of me and I stopped the car. I couldn't help myself and tried to engage him in conversation.
His English was very poor but he spoke with me and told me that he was from Latvia. His name was 'Igor'. He was on a mission to restore his boat to its former glory. He told me that it is a 55-foot three berth yacht that had sailed the Mediterranean and Adriatic Sea.
All the best
Stay fab
Adele