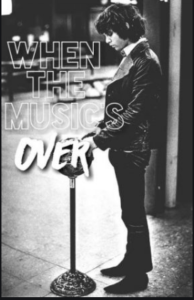 WARNING- NFA- Not funny alert
I was listening to 'When the music's over' by 'The Doors' today.  It is a newly uploaded video from the Hollywood bowl that is 52 years old. The National Independent Venue Association in the States uploaded the video to raise funds for artists struggling during the pandemic.
If you had never heard of 'The Doors' you could easily believe that the concert was filmed a few years ago. They were way ahead of their time.   But that's me, I am bias.
It is such a cool name for a band also. I don't think that 'The Patio' or 'The Kitchen' would have had the same ring to it.  I couldn't help but believe it must have been written for Trump.  The italics are my take on the lyrics.
When the Music's over
When the music's over
When the music's over, yeah
When the music's over
Turn out the lights
Turn out the lights
Turn out the lights
Yeah
Cancel my subscription to the resurrection (Insurrection).
Send my credentials to the house of detention
I got some ( no) friends inside
The face in the mirror won't stop ( his ego)
The girl in the window won't drop ( Kamala Harris)
A feast of friends, alive she cried
Waitin' for me
Outside
Before I sink
Into the big sleep
I want to hear
I want to hear
The scream of the butterfly (My presidency bye bye)
Come back, baby, back into my arms…
Oh, and I love when he belches.  But that's just me being uncouth.
That's all for now
Stay fab
Adele