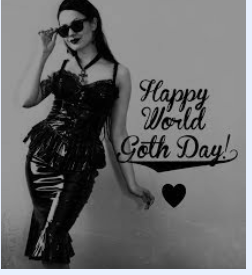 Today is Global May 25th Day. I checked to see what the world was celebrating today and to my surprise there is nothing. Therefore, I have deemed it 'World May 25th Day' .  Where we celebrate the fact that it is simply May 25th.
There are so many weird and wonderful World and International Days in the Month of May. We have 'World Sneakers Day', 'International Tea Day ','World Bee Day '(Sounds like World Bidet Day but maybe that's' just me- mind in the gutter as ever), World Hummus Day', World Baking Day', 'World Goth Day ', 'World Day for Cultural Diversity' and my favorite 'World being you Day'.
As most of them passed me by throughout the month I decided to play catch up . I wore my sneakers whilst drinking a cup of tea dressed as a Goth. My Middle Eastern friend came to visit where I offered Hummus, Pitta and Crudites as a snack.  We then had the scones that I had baked with the options of honey or cream.    As we sat there chatting, we exalted in just being us.
It was a lot of pressure to cram so many World Days into one. But I am proud of my efforts. I have always been a crammer and will plan better to celebrate the World Days next Month as they happen as opposed to doing them all at once.
For now, Happy May 25th. I'm off to listen to 'The Cure' to become more 'Goth Like'.
That's all for now
Stay fab
Adele