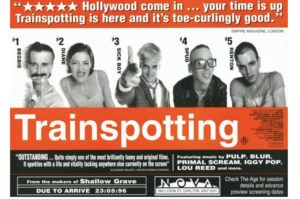 Choose life choose a mask choose social distancing choose hand gel and hand sanitiser choose Covid tracing choose bubbles choose Netflix choose mind altering ice cold and breathing choose Wim Hof to stave off Long Covid.
I chose not to choose Jimmy Choos or stuff or a non-circular economy.
I choose to write a blog.
It's aim being to make people smile.
To beguile.
For a moment. Not for a while.
To celebrate my crazy.
Eschew being lazy.
To celebrate what may be.
I may be right, I may be wrong.
Either way I sing my song.
Alone or when I need to belong.
What I say won't change the world.
But it may make your stress unfurl.
To get out of your shell. And be a pearl.
You may have guessed from my opening gambit that I have watched trainspotting.   The opening scene where the characters are introduced to the 'choose life' monologue as voiced by Ewan McGregor is probably one of my favorite opening scenes of any movie.
The soundtrack is off the scale brilliant also.   Danny Boyle is a genius at choosing old school songs and new songs that complement each other. Every character is extraordinary and I loved when they re enacted the movie poster on Graham Norton for Trainspotting 2, twenty years after the original.
That's all for now
Stay fab
Adele