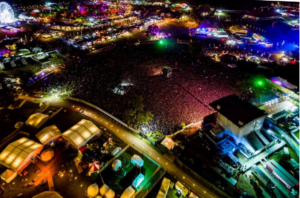 How many band names can you find?
It has been announced that Electric Picnic may well go ahead this year.   How I adore The Farm in Laois that becomes our field of D-reams. Take That! The Animals will be temporarily moved to make way for The Madness. There are Talking Heads all over this Big Country with The Verve of enthusiasm bursting through every pore.
I am getting The Hives with excitement. The Clash will, however, continue between those that agree to it going ahead and those that do not. Hopefully The Stunning line up will be revealed over the next few weeks.
They have moved the date to the end of September for The Vaccines to be taken up by more people. So, The Cardigans will be out for everyone to warm up. If it does go ahead, it will be mega.
This will be my fourth visit in the last 6 years.  It is awesome as it has been hailed as Ireland's mini-Glastonbury.  As I am outstanding in my own field (with my red wellies on) I very much hope that this will happen for 2021.  Latitude in the UK went ahead and was a huge success. I heard that Griff (hailed as the new Lady Gaga) was amazing.
The lineup that was expected for 2020 included some of my faves, 'Snow Patrol', 'The Chemical Brothers' and 'The Foals'- who I am completely obsessed with and have never had the joy of seeing.   It will definitely be fingers crossed that it goes ahead as otherwise the music industry will be in Dire Straits.
All the best
Stay fab
Adele