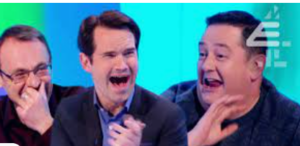 This guy cracks me up.  He never fails to offer the ultimate insults to either his guests on 8 out of 10 cats or some poor gullible audience member. If being politically correct is a passion of yours it is best to steer clear of this as his ability to offend is stellar.
My favorite clips are when one of his guests gives him the giggles as it does not happen very often. The most famous one was Peter Serafinowicz.  He completely blindsided Jimmy.  This has had over 9 million views.
It has always interested me to know who makes the comedians laugh. I have heard that 'Tom Stade' has often been tipped as a favorite. He is a super cool, gorgeous Canadian comedian who lives in Edinburgh.   I have had the pleasure of seeing him a few times when I lived in Dubai and I have to say he is hilarious.
One night however he made a remark to two couples from Pakistan where they all got up and left. It was touch and go for a while as he was worried that the police may cart him off. In my own mind there are very few things that are off limits in comedy but in fairness that night we all knew that he had offended the two couples. Here he is on his best behavior for your viewing.
However recently I have decided that Johnny Vegas has to be the new King of Comedy for me. He makes all the other comedians crack up.
In this clip he is trying to put Adam Hills, Alex Brooker and Josh Widdecombe off their lines in recording the show's promos by saying the weirdest things.
Johnny Vegas messing with Adam, Alex and Josh in The Last Leg -Outtakes
All the best
Stay fab
Adele