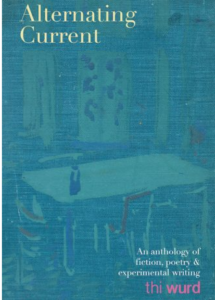 https://www.thi-wurd.com/publications/
What a city, what a weekend. Glasgow surpassed all my expectations. On the night of the Alternating currents anthology launch by thi-wurd, I recited my short story, Flashing Pope and received wonderful feedback. It got some laughs which made my night. It is a truly wonderful anthology lovingly compiled by Alan McMunnigall and his team. The front cover art design and the illustrations within the book are also beautiful.
Earlier in the day, my sister and I decided to go to the Kelvingrove Art history museum. It is a large magnificent red brick Victorian building that would easily take more than a day to get around. It has a north, south, east and west and reminded me of a mini-Louvre.
On Friday night, we had probably one of my favourite meals as it combined my love of Indian and Tapas. It was an Indian Tapas restaurant, something I have never seen in Ireland. Later in the evening, we went to a luxury cinema called Everyman, which was showing the movie, She said. The story outlined the struggle of the journalists to convince the victims of Harvey Weinstein to tell their stories.
It has inspired me to write a poem called 'Hush,' where so many of the most heinous crimes of the last fifty years have involved silence and moving perpetrators of these crimes around to avoid confronting the real issues.
All the best
Stay fab
Adele