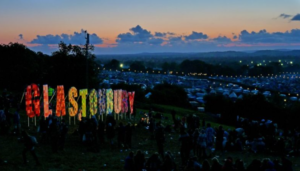 Glastonbury The Theatre & Circus Fields 2017 highlights – https://youtu.be/1A01IULMkPw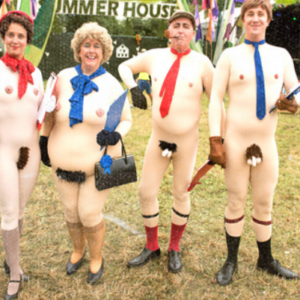 (That's me second on the left looking chuffed – and very chaffed inside the costume – I jest)
On today the first day of the 2021 Glastonbury weekend BBC celebrate all things Glastonbury https://www.bbc.co.uk/events/em89hn (sadly only available to view in the UK)
Through 8 different themes the music and artists throughout Glastonbury's 50-year history are revisited with everything from Live at Worthy Farm, Glastonbury in the 90's, Glastonbury Rave, Glastonbury in the 21st Century, Pop Royalty rules Worthy Farm to A Glastonbury shutdown (Rap and Grime).
Everything that makes Glastonbury legendary, Riff's for your pleasure (Purely for Guitarophiles- just made that word up) and finally Glastonbury Chill out and relax.
Living in Ireland I am gutted that I was unable to watch any of it. Maybe I shall take a trip up North (to watch it) so that I can get my Glastonbury fix for 2021.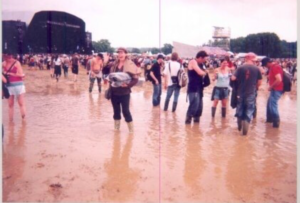 That's me above in 2003 happy as glasto chick can be up to her knees in glasto mud. I have been a Glastonbury superfan for nigh on 20 years now (I even dream in Glastonbury twice a year).
The last weekend of June always fills me with both joy and sadness. Joy when I have a ticket and sadness when I do not.  My birthday is June 30th and I have had the pleasure of visiting Glastonbury 8 times over the last 20 years.
At this point you may want to begin playing 'Glastonbury Bingo' where you can mark off on your card the number of times I mention 'Glastonbury'.  When you reach 50 your prize will be to not have to hear about Glastonbury for another year.
I have decided to write 'Glastonbury Tales' in honor of the festivals second fallow year due to the pandemic.  It is in chronological order from Thursday through to Monday and visiting every area (30 in total) throughout the festival.
All the best
Stay fab
Adele