Kilmurvey Beach on Inis Mor, Aran Island.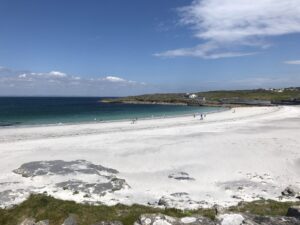 I have researched this day-June 13th– only to discover that it is of no significance whatsoever to anyone, anywhere in the world. It is not World Gardening Day, World Wind Day or World Pet Day and I shall not bore you with the hundreds of other days that are celebrated. Although World Groundhog Day should really be repeated every day if you think about it for long enough.
In failing to have a subject for this blog I have decided that I am imperfecked. Yesterday I realized that the word 'fecked' is beautifully and silently woven into the word 'imperfect'. And my personal meaning for this word is that I am fecked if I am going to try and be perfect anymore, as it does not work for me. Never has, never will. I am reconciling myself with my imperfections.
However, June 13th is of special significance to me as my lucky number is thirteen and I am also born on the last day of this month. This year I have decided that I will celebrate every day in June. Last weekend I had the pleasure of joining some friends for a trip to Inis Mor, one of the Aran Islands. The sun shone and we had a beautiful day swimming at Kilmurvey beach. The sand on the beach was like white powder and it really was a perfect day.
Upon finishing this blog, I remembered that I forgot to celebrate a few June days last week. So, there you go, I have been reminded yet again of being imperfecked. And perfectly grand with the notion too.
All the best
Stay Fab
Adele