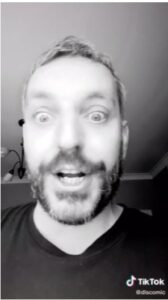 You couldn't make this up. Or if you did you would be hung drawn and quartered for gross indecency.   A Galway Bishop has placed a priest on indefinite leave following his posting of controversial videos on TikTok.  Father King from Renmore in Galway was ordained in 2016 and was a parish priest of Gort in County Galway.
In the video he suggests playing Highway To Hell at a funeral mass whilst appearing topless and also discussing sex and alcohol.   Other songs that he would have on his funeral Mass playlist are Queen's Another one bites the dust, The Bee Gees Stayin alive and the dance hit You'll never see me again. He forgot Always look on the bright side of life .
Another post shows a woman using a blow dryer between her legs alongside a video of the priest who asks her what she is doing.
'I'm heating up your dinner'.
To which Fr.King replies 'I'm hungry'.
All of this is shocking, disrespectful and upsetting.  But like lots of things in life it is all about perspective. Prior to becoming a priest Father King had worked as a bouncer in nightclubs and bars in Galway.  He had also spent time in Dubai before entering the priesthood.
Maybe I am wrong but perhaps his life prior to becoming a priest was a sign that the vocation was not for him?   It's like a porn star becoming a nun. I do believe we all deserve second chances in life to turn our lives around but this was too outrageous to not blog about it.  I wonder what he will do next? Maybe an alternative Funeral Director?
All the best
Stay Fab
Adele