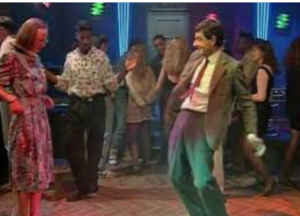 Like a lot of folk I think that I have the moves of Robyn in Call your girlfriend
But at this stage in my life, I would most likely be classified as a nerdy dancer. I became obsessed with Robyn when I saw the following video (On TikTok) with Emma Stone and Maya Rudolph
Of course, I then had to go and learn all of Robyn's dance moves from the video. The tumble was a bit tricky to say the least. Nelly the elephant came to mind.
Whilst walking in the park the other day I was listening to 70's music. My favorite track 'I feel love' by Donna summer came on and I began to dream of her playing the legend slot on Sunday at Glastonbury. I was almost dancing around the park as I envisioned myself there.
It transpires that it might be difficult for her to headline at Glastonbury as she is no longer with us. I then began to think that maybe Elvis would be a great replacement. And guess what? I found out that he is no longer with us either.
Diana Ross is to grace the Pyramid stage at this year's Glastonbury. What a woman. She exemplifies grace. I am envious of everyone that is going but I cannot be greedy as I have tickets for Latitude in the UK and Electric Picnic in September in Ireland.
Woo hoo. Bring on the festy fun.
All the best
Stay Fab
Adele