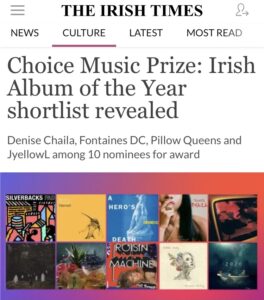 The RTE Music Choice Awards albums of the year the shortlist was announced today. It is an impressive list and there are a few surprises.   I am guessing that 'Fontaines DC 'will win as they have been nominated for a Grammy.   I love them, their punk, their anarchic tone and their lyrics.
It has been sometime since any Irish band has been nominated for a Grammy.  Hozier in 2015 for Take me to church was the last time an Irish artist/band was nominated.
The 'Silverbacks' and the album 'Dunkirk' are shortlisted and are another fav of mine. However, the song 'Dunkirk' was released two years ago which is surprisingly.
Even though I love keeping up with new music I have finally conceded that I am no longer cool. And have given up attempting to appear so. I am possibly as cool as Enya head banging to Metallica.
I remember Dara 'O Brian discussing the same thing in one of his stand up gigs many years ago.  He said that he found it exhausting trying to keep up with new music. Finally accepting that I am a 90's and Noughties music gal is a relief.
Any bands or singers after these decades have far too many syllables in their names and I just cannot keep up.  Hip hop has taken over.   Whilst I like a bit of Eminem, I cannot listen to it non-stop.  I am off to lament my lack of coolness and to head band to an Enya song. Just because I can.
That's all for now
Stay fab
Adele