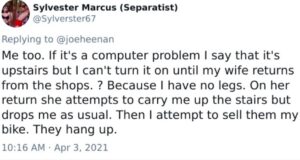 I must have manifested scam calls from writing about them as I have received three in the last few days. By the time the third caller came around I had my story off pat. This is how the conversation went
Caller- Congratulations you have won 10,000 euros.
Me- What fantastic news. I am so glad that I answered this call.
Caller- How can we transfer the funds?
Me- Goodness me I am still in shock from such an unbelievable windfall.
Caller- Well, you are one of the lucky ones.
Me-Please give it to my preferred charity.
Caller- Huh?
Me- Yes. The Jack & Jill Foundation in Dublin.
Caller- Ok, Mam (I just love it when I am called this. Not.) But we still require a deposit from you before we can release it to your charity.
Me- Here is the website for you to contact – https://www.jackandjill.ie/
Caller-Sorry Mam. But I require you to lodge 5,000 euros please?
Me-Yes, of course. Thank you very much.
At this point I put the phone down. He rang back and I spoke in Irish/Gaelic to him. He got a bit annoyed and I felt really bad for wasting his time. So, I apologized in Irish/Gaelic to him. Just to alleviate my guilt.
Incidentally the Jack and Jill Foundation is extraordinary. I had the privilege of working an agency nurse shift there years ago and was amazed at the quality of care and devotion that the staff have towards the children and the parents.
All the best
Stay Fab
Adele