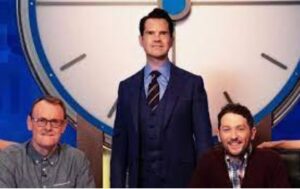 I still cannot believe that Sean Lock has passed away. He was such a young man. Over the years he has unfailingly provided the surreal left of center humor that perfectly complements Jimmy Carr's acerbic wit in 8 out of 10 cats.
There are not many comedians that can have all the other comedians in stitches and Sean Lock was one of them.  I particularly loved his silly inventions. He always went to so much trouble to get a ridiculous prototype ready for the show.
This has to be my favorite line from Sean Lock 'That's a challenging wank'.  The fact that Rachel Riley and Claudia Winkelman are cracking up makes it all the better.
I had blogged about Johnny Vegas a few weeks ago and was watching and re watching some of 8 out of 10 cats. Maybe that is why his death was more of a shock as he was fresh in my memory.   Sean famously ridiculed Jimmy over his tax evasion when it hit the news.  It was obviously the hot topic of the week.
Being the (tax evading) professional that he is Jimmy takes it on the chin.  This is what contributes to his comedic genius. I suppose it was best to allow the panel to ridicule him to illustrate how he can give it and take it himself.   As well as to get all the jibes over and done with.
All the best
Stay Fab
Adele