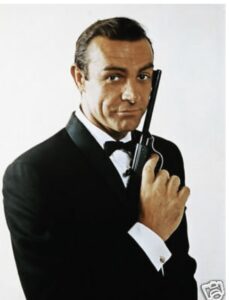 (Warning the following may offend or make you giggle)
It's so sad to have lost the great Sir Sean Connery. The one and only James Bond. With his devilishly handsome looks, a raised eye brow and come-hither look. He epitomized the swarthy sexy hero. And just in case that wasn't enough he had the ever so sexy Scottish accent to boot.
Both men and women around the world swooned whenever he played their favorite character.  The bond girl names however were often questionable. I mean Pussy Galore? Really?  Why did they not have a Greek villain by the name of Phallus Generous?  At least the silly names could be divided across the genders. Holly Goodhead from Moonraker. Why not have a Chinese villain by the name of Muff Munch.  Or finally Chew Mee in The Man with the Golden Gun could have had an Irish villain by the name of Nosh O' Tool. Just sayin.
That's all for now.
Have a great day.
Stay fab.
Adele