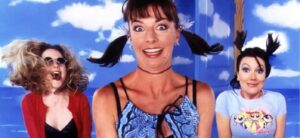 Smack the pony where does all the fat go?
https://vm.tiktok.com/ZM81Fb6GQ/
I had forgotten how funny these comedians were until I saw this clip.  Doon Mackichan, Fiona Allen, Sally Phillips and Sarah Alexander are enormously talented.   Back in 2019 they spoke about a re union of Smack the Pony and then of course the pandemic hit. Fingers crossed that it will happen soon.
When I saw this, I was reminded of an occasion when I wore spanx.  They were industrial strength and as such I was unable to feel anything once they were on.   I had notions of myself at the time and thought that I looked fabulous.
We were at an all-day brunch at a restaurant in Dubai and I was very merry indeed. I had a new long fishtail style skirt that had a beautiful multi colored paisley pattern and I really did think that I was the bees' knees.
Anyhoo, I had ordered drinks at the bar and was going back to my table with them when I nearly tripped up.  I looked down to see my beautiful skirt almost around my ankles.   With my lovely new spanx on show for everyone to see.  In true Irish style I did not spill the drinks.  The tray was placed gracefully onto a table and I pulled my skirt up whilst checking to see if anyone had noticed.
I was thrilled that I had gotten away with such an embarrassment.  However, upon my next trip to the bar I caught the eye of a really cute guy who was with his friends.   One of them waved over to me and said 'Spanx for the memories'. I scurried back to my seat with a crimson face.  When I confided to my friends about the incident, they all a good giggle.
All the best
Stay Fab
Adele